Matsu Takeko was a young bushi of the Lion Clan.
Takeko was the daughter of Matsu Tomiya, who fought against the Shadowlands in the Fall of Otosan Uchi. [1]
In 1169 Takeko was stationed at Kenson Gakka under the commmand of her friend Akodo Shunori. Shunori's first mission as commander was to patrol the path between Kenson Gakka and Shiro Matsu. The veteran scout Sato found tracks that a bandit gang would be raiding a village near Shiro Matsu. The patrol defeated the bandits, and Takeko murdered the bandit lord. After the fight was ended, appeared the Imperial Legions led by his General Toturi Shigekawa. Takeko pondered that without an Emperor, the bandits and raid would not end. [1]
Messenger
Edit
She was tasked with delivering a message to the commander of the Kyakuchu garrison. On the way she encountered a handful of heimin being attacked by some bandits. Risking her life and the message she carried she aided the heimin, killing five of the bandits single-handedly. [2]
Akodo Setai
Edit
Takeko was tasked with delivering messages to and from Akodo Setai in Toshi Ranbo in the Month of the Rooster 1169. She was very proud to serve a man of Setai's stature. While in the city Takeko was witness to a fight between a handful of Akodo and Mantis samurai. Takeko began to run to report the incident to Setai, but was shot in the ribs by a Mantis archer. Takeko killed the archer and another Mantis, before running to Setai's residence. At the residence she reported the incident, and a healer was called. Some time later, Takeko met with Setai who explained to her that the Mantis and Lion had been expelled from the capital. [3]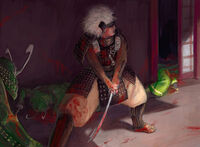 Takeko wished to join the Lion's Pride and requested Matsu Robun to intercede for her. They were sparring when Satomi attacked Matsu Ketsui. Takeko slew several goblins but was unable to defeat Satomi, who wounded her and murdered Ketsui. Takeko saw how Matsu Kenji confronted Satomi and killed her. [4]
Toshi Ranbo
Edit
In 1171 when the Destroyer War had erupted in the Crab lands Takeko met her friend Akodo Shunori there. He told his meeting with the Empress Iweko I, the journey to the Shadowlands, the encounter with Kali-Ma, the death of several companions, and the second prophecy of Kitsune Narako. [5]
External Links
Edit
References
Ad blocker interference detected!
Wikia is a free-to-use site that makes money from advertising. We have a modified experience for viewers using ad blockers

Wikia is not accessible if you've made further modifications. Remove the custom ad blocker rule(s) and the page will load as expected.