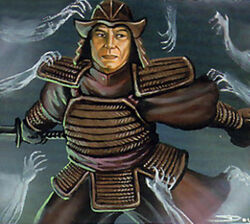 Matsu Suhada was a Lion Clan Samurai and member of Toturi's Army.
Fighting the Unicorn
Edit
Suhada was part of the Lion army who defeated the Unicorn in the Storms Over Matsu Castle at the orders of Matsu Ketsui. [1]
Toturi's Army
Edit
Suhada served Emperor Toturi I when the Lying Darkness attempted to destroy Toturi's soul in 1132. He saw the madness in the Emperor and allowed Isawa Kaede, the Oracle of Void, to take Toturi away of the Imperial Palace. [2]
External Links
Edit
References
Ad blocker interference detected!
Wikia is a free-to-use site that makes money from advertising. We have a modified experience for viewers using ad blockers

Wikia is not accessible if you've made further modifications. Remove the custom ad blocker rule(s) and the page will load as expected.