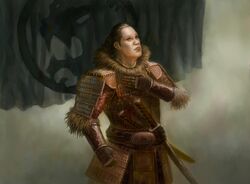 Matsu Naomasa was a bushi of the Lion Clan. She was considered a paragon of Bushido.
Her father was a Deathseeker who regained his honor at the cost of his own life. [1]
Winter Court - 1170
Edit
Naomasa atttended winter court at Kyuden Bayushi in winter 1170-1171. [2]
Naomasa was a member of the Empress' Guard during the reign of Iweko I. [3] After the attempt taken on the life of the Empress in 1172 Naomasa prayed for those who died during the fight, as her companion Akodo Kurogane, or the Protector of the Imperial City Bayushi Norachai. [1]
External Links
Edit
References