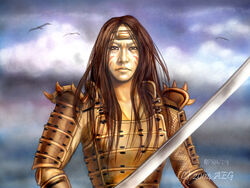 Matsu Nanako was a bushi and a scout of the Lion Clan.
Nanako liked to read tales, as ones of Kaiu Anou, a Kaiu Engineer who revolutionized the way fortresses were built in his day. [1]
Spying the Uncorns Scout
Edit
In 1166 Nanako was spying a Unicorn scout near the Lion border. She had to report the purpose of the Khan's scouts in the mountains. The Unicorn, Shinjo Fuyuko, saw her and slightly wounder with her bow. Fuyuko convinced Nanako to aid her in the climbing in return she would pass to Nanako what activities she was doing in the border. They climb a mountain nearby, which in the top sat a building with the Shinjo mon. It had been empty for centuries, except a brief time that a Kitsu passed there. [1]
Motoichi's Journals
Edit
They read the ancient records and the newest one. Kitsu Motoichi, who escorted the Scorpion Clan and returned with the Kami Shinjo back to Rokugan had been ordered to find a small Unicorn group. They had been left behind before the Ki-Rin's Exodus to keep and eye in the Empire, and upon the return of the Ki-Rin Clan, to tell if a danger was there. They had knowledge of the Lying Darkness and sought a means to destroy it, but in doing so only gained its attention and were destroyed. [1]
Motoichi's Legacy
Edit
Motoichi crafted a perfect crystal tessen. Motoichi was supposedly killed by minions of the Shadows as well. They decided to return the nemuranai to the Kitsu family. [1]
External Links
Edit
References
Ad blocker interference detected!
Wikia is a free-to-use site that makes money from advertising. We have a modified experience for viewers using ad blockers

Wikia is not accessible if you've made further modifications. Remove the custom ad blocker rule(s) and the page will load as expected.