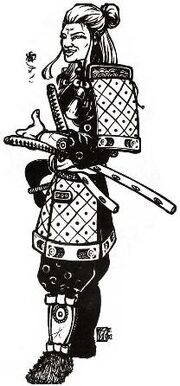 Matsu Miwako was the sensei of the Shiro Matsu Dojo.
Miwako was radically different from her predecessors. In fact, the reason she was chosen for the position was because her previous sensei, Matsu Chikoko, decided the Matsu were far to morose and fixated on death to truly live for the clan. So when the time came for her to choose the next sensei to replace her, she choose one of her favourite students, Miwako. Miwako was a fierce as any of the sternest and surliest Matsu warriors, but felt that rage should be preserved for enemies, not those she held in high esteem. Her teaching style was uplifting and encouraging, disorienting students used to sterner teachers. Her attempts to be cheerful however just made the students think she was trying to get them to let their guard down. [1]
References
↑ Way of the Samurai, p. 42
Ad blocker interference detected!
Wikia is a free-to-use site that makes money from advertising. We have a modified experience for viewers using ad blockers

Wikia is not accessible if you've made further modifications. Remove the custom ad blocker rule(s) and the page will load as expected.