Matsu Koyama was a Bushi of the Lion Clan.
Shogun's army
Edit
Koyama was appointed as Imperial Yojimbo, [1] and his charge was the Shogun Moto Taigo. [2] [3]
Chasing bandits
Edit
In 1198 the Shogun chased a bandit group to their lair and destroyed them. The brigands had raided an Imperial caravan, but only a scroll was returned to the Miya by Moto Chuko. The Miya Herald was escorted back by Matsu Koyama. [4]
Dark Naga
Edit
Sightings of Naga were reported by peasants, so the Shogun's forces investigated the matter. [2]
Colonies
Edit
Koyama moved to the Colonies to determine a suitable location for an outpost for the Shogunate in the Empty Plains. [5] He found there the Oasis of the Seven Eternal Rainbows. [6]
External Links
Edit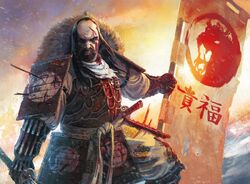 References
Sources Conflict
The sources relating to this article are in conflict with each other.
Koyama was wrongly named Akodo Koyama in the fiction A Matter of Honor. Oni no Pikachu (talk) 13:58, August 21, 2012 (UTC)
Ad blocker interference detected!
Wikia is a free-to-use site that makes money from advertising. We have a modified experience for viewers using ad blockers

Wikia is not accessible if you've made further modifications. Remove the custom ad blocker rule(s) and the page will load as expected.