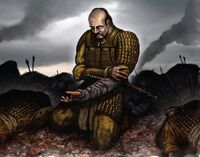 Matsu Hirake was a bushi of the Lion Clan.
Khan's defiance
Edit
In 1168 Hirake was assitant of Lion's heir, Matsu Yoshino. He was impressed of Yoshino's tactical skill that led the Lion to defeat a large

army which were seeking a covert path to Toshi Ranbo. After that victory Yoshino became the new Lion Clan Champion. [1]
External Links
Edit
References