Matsu Hataki was a bushi and magistrate of the Lion Clan.
Scorpion Lover
Edit
Hataki had a Scorpion wife, Bayushi Shamate [1] who joined the Matsu. [2] The romantic relationship between a Lion and a Scorpion was not welcomed by all, and she was killed by Bayushi Kuemon, [3] a jealous former lover. [2]
Vengeance
Edit
Hataki kept his lover's mask as memento of his neverending love for her, [4] and pursued vengeance against her murderer. [5]
In 1160 Hataki found his wife killer, [6] and dueled him, [7] even when he was against eight other Scorpion. [8] Hataki took Kuemon's life [1] and died from the wounds he received in tlie battle. [9] Afterwards, Kuemon's cousin Bayushi Eitarou honored Hataki's memory. [10]
The place where Hataki died was called Shamate Pass, in honor of his beloved Shamate. [1]
External Links
Edit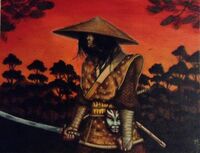 References
Ad blocker interference detected!
Wikia is a free-to-use site that makes money from advertising. We have a modified experience for viewers using ad blockers

Wikia is not accessible if you've made further modifications. Remove the custom ad blocker rule(s) and the page will load as expected.