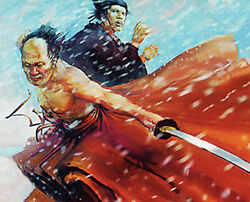 Matsu Bunka was a bushi of the Lion Clan.
Early Years
Edit
Bunka's parents died during the War of Spirits, and he was raised by distant relatives in what was more or less an orphanage. He grew up as an angry man, and resigned himself to a life of misery. [1]
Training
Edit
Bunka came to the defense of younger children who were being bullied and receiving a terrible beating for his trouble, but he badly injured two of the assailants. He was cast out of the orphanage, but taken in by a sensei at the dojo in the same town where he had lived almost his entire life. [1]
Upon his graduation, his obvious enthusiasm for protecting others got him an appointment as a yojimbo to the Kitsu family. Bunka's temperament made him prone to perceiving threats where there were none and he was dismissed. After few month he joined the Matsu Elite Guard school, and excelled in his training. During the inactivity periods Bunka slowly became more and more temperamental until he purged himself of his anger by visiting it upon his enemies when a conflict arose. [1]
Sparring
Edit
Bunka was one of the sparring Ikoma Otemi used to recover from the wounds the General got in the Fall of Kyuden Ikoma. After the Battle of Toshi Ranbo in 1169 Bunka told the Lion Clan Champion Matsu Yoshino Otemi was still not fitted for battle, but he would be in one year's time, ready to join the march to Shiro Moto. [2]
See also
Edit
External Links
Edit
References
Ad blocker interference detected!
Wikia is a free-to-use site that makes money from advertising. We have a modified experience for viewers using ad blockers

Wikia is not accessible if you've made further modifications. Remove the custom ad blocker rule(s) and the page will load as expected.