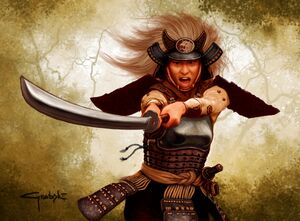 Matsu Arata was a samurai-ko paragon and justicar of the Lion Clan.
Justicar
Edit
Arata was a student of an ancient and honored tradition, that of the justicar. She sought fugitives from justice, sealing both their guilt and their life in a duel. She had never been defeated, which only assured her that her cause was just. [1]
Colonies
Edit
Arata was appointed in the Second City, the colonial capital. In 1198 she pondered with Kitsu Miro, the Lion representative there, about the outcome of the Siege of the Second City. [2] Eventually the city surrendered to the Ninth Imperial Legion.
P'an Ku reached across Ningen-do and its madness spread all the districts of the city. Miro sent word to the Imperial Legion through Arata. [3]
External Links
Edit
References
Ad blocker interference detected!
Wikia is a free-to-use site that makes money from advertising. We have a modified experience for viewers using ad blockers

Wikia is not accessible if you've made further modifications. Remove the custom ad blocker rule(s) and the page will load as expected.