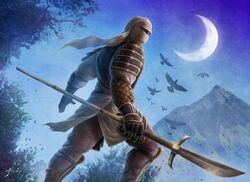 Masu was a monk of the Spider Clan who became an infiltrator of the Sparrow Clan as Suzume Masu.
Sparrow Infiltration
Edit
The Spider Clan began to take over the leadership of the Sparrow Clan. In 1171 he was known as Suzume Masu and was stationed at Kyuden Suzume as the sensei of the dojo. He taught the Patient Wing Style, and introduced the bisento to the students. The training was extended to night hours, due to the exceptional vision the taint granted to the corrupted Spider. [1]
External Links
Edit
References