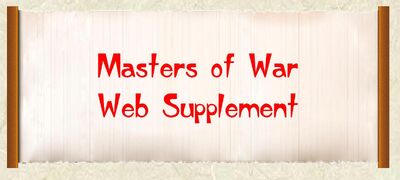 The Masters of War Web Supplement was an online supplement released by Alderac Entertainment Group following the release of Masters of War. The Supplement covered some aspects of the Six clans not covered in the main book; The Crane Clan, Dragon Clan, Mantis Clan, Phoenix Clan, Scorpion Clan and Spider Clan. [1]
Crane Clan - Page 2
Edit
Dragon Clan - Page 7
Edit
Mantis Clan - Page 11
Edit
Phoenix Clan - Page 16
Edit
Scorpion Clan - Page 21
Edit
Spider Clan - Page 25
Edit
References
Ad blocker interference detected!
Wikia is a free-to-use site that makes money from advertising. We have a modified experience for viewers using ad blockers

Wikia is not accessible if you've made further modifications. Remove the custom ad blocker rule(s) and the page will load as expected.