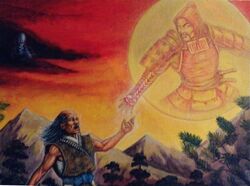 Master Smith Ascends was a Mastery 1 Earth spell which improved the quality of a weapon made primarily or wholly of steel. The shugenja who first scribed it claimed he waas divinely inspired by witnessing Tsi Xing Guo's apotheosis into the Fortune of Steel. The spell often appeared in the satchels of Kitsu, Iuchi, and Kuni Shugenja. [1]
External Links
Edit
References
↑ Prayers and Treasures, pp. 67-68
Ad blocker interference detected!
Wikia is a free-to-use site that makes money from advertising. We have a modified experience for viewers using ad blockers

Wikia is not accessible if you've made further modifications. Remove the custom ad blocker rule(s) and the page will load as expected.