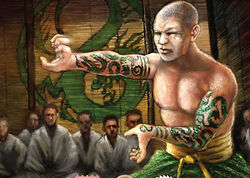 A Master Sensei had the great burden of teaching the next generation of samurai. [1] They were well-known and highly respected individual, revered by hundreds or thousands of students of the style he practiced. A master sensei who maintained a dojo was a great benefit for the city or province where it was located. [2]
Known Techniques and Features
Edit
See also
Edit
References
Ad blocker interference detected!
Wikia is a free-to-use site that makes money from advertising. We have a modified experience for viewers using ad blockers

Wikia is not accessible if you've made further modifications. Remove the custom ad blocker rule(s) and the page will load as expected.