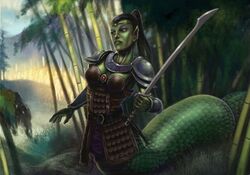 Masserah was a Greensnake naga mountaineer scout.
Destroyers
Edit
The Foul had a new leader, the goddess Kali-Ma. Masserah decided to remove all traces of her people from the path of these beasts. They should have no knowledge of the naga. [1]
Kyobu Mura
Edit
In 1173 Masserah moved to the village of Kyobu Mura, which would be assaulted by the Destroyers, the gaijin demon followers of the goddess. Within the village the Scorpion had gathered many items and scrolls stole from the naga cities. She came to erase these tracks from the invader's path. She encountered a tainted Spider, Daigotsu Gahseng, who she believed that he was fighting against the Destroyers and gifted him with a blade that would pain the Foul greatly. The naga adviced Gahseng to kill himself with the blade after the Destroyers' defeat. [1]
External Links
Edit
References
Ad blocker interference detected!
Wikia is a free-to-use site that makes money from advertising. We have a modified experience for viewers using ad blockers

Wikia is not accessible if you've made further modifications. Remove the custom ad blocker rule(s) and the page will load as expected.