Masks of the Oni were Kabuki masks corresponding to a particular Oni Lord, granting some measure of that creature's dark power. [1]
Creation
Edit
The Masks of the Oni were brought into existence by the Oni Lords themselves, in hopes of spreading their influence throughout the mortal realm. Each mask contained a tiny fraction of the power commanded by an Oni Lord, but with a price. [2]
Abilities
Edit
The Masks of the ani allowed their owner to summon and command the Oni Lord associated with them, in return for handing over the mask to the Oni Lord. Those who wore the Masks were corrupted by the Shadowlands Taint. [3]
Known Masks
Edit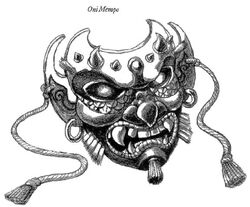 External Links
Edit
References