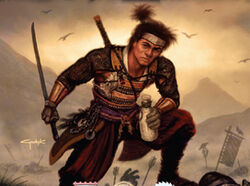 Masaya became a member of the Legion of Two Thousand. He was sent to meet Horobei, a ronin who had performed well in the Emerald Championship of 1199, being defeated by the final winner, Mirumoto Tsuda. The ronin earned a commission in the Legion as yojimbo to its leader, Utagawa. Soon after they moved to Kyuden Bayushi to accept a contract to relieve one of the Scorpion Clan's units at the Second Pit. [1]
External Links
Edit
References
↑ Unexpected Allies 2, p. 4
Ad blocker interference detected!
Wikia is a free-to-use site that makes money from advertising. We have a modified experience for viewers using ad blockers

Wikia is not accessible if you've made further modifications. Remove the custom ad blocker rule(s) and the page will load as expected.