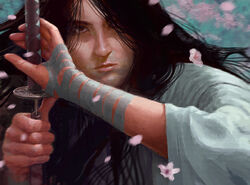 Masatane, the Whispering Blade, [1] was Ronin bushi, duelist and kensai.
Masatane studied the best of the Kakita and niten style, becoming an accomplished duelist. [2] Tales said he defeated a Chuden of the Kakita style, he beat a Mirumoto samurai before the [Drunken Lovers Bridge in Ryoko Owari, and that he had never lost a duel, not once in his entire life, not since he became a ronin. [1]
The name Masatane was so famous that several ronin pursued this name, and taken as their own. In 1192 two ronin who bragged to be the real Masatane were both defeated by Masatane himself. [1]
External Links
Edit
References