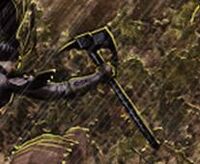 Masakari were one-handed axes, similar in design to the ono. It was another weapon that began as a tool of the peasantry. [1] [2] Many peasant militia and ronin had adopted the masakari as a favored weapon, as it was cheap and plentiful, and most people could already use an axe. [3] It was the preferred weapon of the Hiruma Slayers. [4]
External Links
Edit
References
Ad blocker interference detected!
Wikia is a free-to-use site that makes money from advertising. We have a modified experience for viewers using ad blockers

Wikia is not accessible if you've made further modifications. Remove the custom ad blocker rule(s) and the page will load as expected.