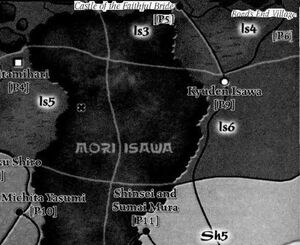 Maryoku province (Is6) was a province of the Isawa family, home to the Phoenix capital Kyuden Isawa. The province was bordered by the Garanto (Is4) and Kinkaku provinces (Is3) to the North, the Aoijiroi province (Is5) to the West, being enveloped by the Nejiro province (Sh5). [1] Another notable holding was the Temple of the Eight Guardians. [2]
References
Ad blocker interference detected!
Wikia is a free-to-use site that makes money from advertising. We have a modified experience for viewers using ad blockers

Wikia is not accessible if you've made further modifications. Remove the custom ad blocker rule(s) and the page will load as expected.