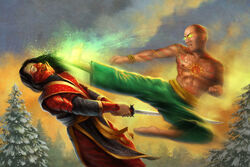 Although the expression originally meant "the arts of war", Martial Arts were commonly referring to hand to hand combat styles. In Rokugan, the main martial art was Jiujutsu. But there were literally hundreds of sub-types and alternative ones. Some of the more famous ones are listed below:
References
Ad blocker interference detected!
Wikia is a free-to-use site that makes money from advertising. We have a modified experience for viewers using ad blockers

Wikia is not accessible if you've made further modifications. Remove the custom ad blocker rule(s) and the page will load as expected.