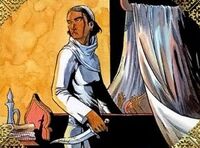 Marishka was a member of the Assassins who covered her missions under the guise of a midwife. [1]
Shifting loyalties
Edit
After the Awakening the Assassins divided in factions and erupted into open warfare between them. [2] Marishka left her Order and joined the side of the Jinn Lord, Kaleel, and his legion, [3] who roamed free. Kaleel to return completely needed a vector, [4] and Onaja, the first child born within the Ashalan race for six centuries was selected. [5]
Onaja midwife
Edit
After the brothers of Kaleel seized the infant, [6] Marishka tended him, [7] waiting the Jinn of Infinite Eyes who would transform Onaja in the vessel for Kaleel. [4]
External Links
Edit
References