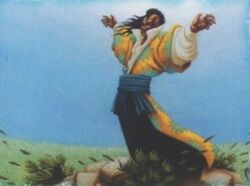 Marad was a Ra'Shari Sahir of the Fifteenth Ckronicle. [1] In 1132 during the Shattering of the Jewel he cast the spell Blighted Fields and all the farms beside the river Nahr'umar dried and which flaked away, benying Medinaat al-Salaam of their crops. [2]
References
Ad blocker interference detected!
Wikia is a free-to-use site that makes money from advertising. We have a modified experience for viewers using ad blockers

Wikia is not accessible if you've made further modifications. Remove the custom ad blocker rule(s) and the page will load as expected.