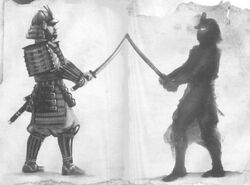 Manesuru no Oni, the Demon of the dark Mirror, was an Oni of the Shadowlands. [1]
Appearance
Edit
Manesuru no Oni appeared as a large, amorphous blob of a foul, black substance. Maneseru would lie in hiding within the Shadowlands, waiting for unwary samurai to come close. It then spawned duplicates of its foes and killed as many of them as possible, absorbing the dead, and slowly adding to its own mass. [2]
Shapeshifter
Edit
It was an expert at mimicking the number and appearance of people encountering it. Whatever the number of people happening upon it, the Manesuru no Oni would match it with equal number of replicas. Each of which would take on the shadowy form of its opponent. The samurai were then compelled to fight their doppelganger. The oni copied their techniques, feats, voice and physical features. Some said there was only one Manesuru no Oni, splitting into enough parts to match the party, others said that there was a multitude of Manesuru. [3]
See also
Edit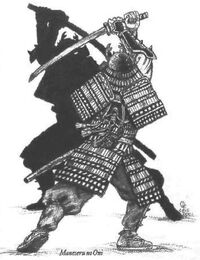 Sources Conflict
The sources relating to this article are in conflict with each other.
Creatures of Rokugan pages 40-41 named it Maneseru no Oni. --Oni no Pikachu (talk) 21:56, October 1, 2012 (UTC)
References