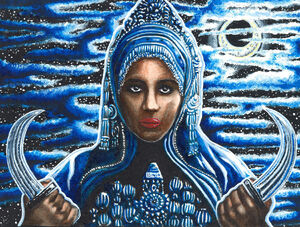 Manala Shessim was the Ebonite"Guardian of the Seven Keys". She was personally appointed by the Sultan Yusef III to guard the Nine Rooms of Golden Wonder. [1] She warned her Lord that the defenses of Medinaat al-Salaam were poor, and they must to be improved in these difficult days. [2] During the Shattering of the Jewel the doors of the Nine Rooms were never compromised. [3]
External Links
Edit
References
Ad blocker interference detected!
Wikia is a free-to-use site that makes money from advertising. We have a modified experience for viewers using ad blockers

Wikia is not accessible if you've made further modifications. Remove the custom ad blocker rule(s) and the page will load as expected.