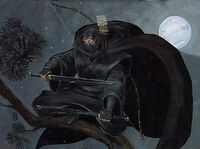 Mamoru was a Ninja guard who was a vigilant and unequaled guard against the foul play of ninja. [1]
Mamoru was reviled and admired by other ninja for his determination, skill, and his habit of foiling even the most clever adversaries at every turn. He devised the Ninja feat known as Dark Guardian. [2]
Chasing the Kolat
Edit
Mamoru hunted Kage to take his kolat secrets. [3]
External Links
Edit
References
Ad blocker interference detected!
Wikia is a free-to-use site that makes money from advertising. We have a modified experience for viewers using ad blockers

Wikia is not accessible if you've made further modifications. Remove the custom ad blocker rule(s) and the page will load as expected.