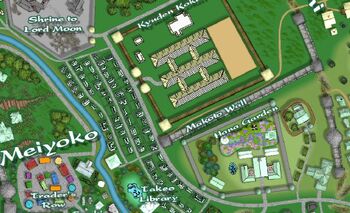 The Makoto Wall was ordered to build by the Meiyoko district's governor, Shosuro Meiyoko, to separate her estate from the prison known as Palace of Remorse, and later extended it into her district along Toyotomi district's eastern edge. The wall contained four separate guard towers. [1] It was completed after the Scorpion Coup by the new governor Yogo Mamoru. [2]
References
``
Ad blocker interference detected!
Wikia is a free-to-use site that makes money from advertising. We have a modified experience for viewers using ad blockers

Wikia is not accessible if you've made further modifications. Remove the custom ad blocker rule(s) and the page will load as expected.