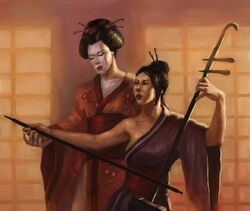 Maiko, "dance child," was the Rokugani name for apprentice geisha, referring to the first art the girl must master. They were recognized by her distinctive facial make-up, her skin white with rice powder, with bright red lips and black eyebrows. Maiko were bonded to their okaasan, who held their contracts until someone else bought them, becoming her servants during the entire time of her training. Experienced geisha mentored the maiko in the manner of older sisters. [1]
Maiko Ranks
Edit
There were three different ranks of maiko, and each one is designated by a different hairstyle. [1]
External Links
Edit
References
Ad blocker interference detected!
Wikia is a free-to-use site that makes money from advertising. We have a modified experience for viewers using ad blockers

Wikia is not accessible if you've made further modifications. Remove the custom ad blocker rule(s) and the page will load as expected.