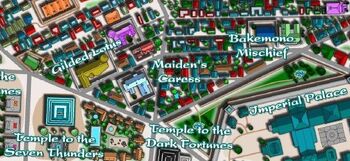 The Maiden's Caress was a geisha house in the Shutsuensha District at Toshi Ranbo, property of the Scorpion Clan, which deliberately appealed to those samurai of somewhat less-than-honorable character. The okaa-san was trained by the Shosuro, and might even be a Shosuro agent. [1] It was a dark and largely undecorated building in the center of the district. During the reign of Iweko I it was run by Aikuchi. [2]
References
Ad blocker interference detected!
Wikia is a free-to-use site that makes money from advertising. We have a modified experience for viewers using ad blockers

Wikia is not accessible if you've made further modifications. Remove the custom ad blocker rule(s) and the page will load as expected.