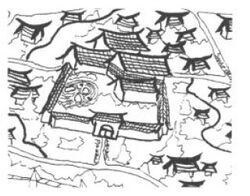 The Magistrate Residence was located in the New Section of Ryoko Owari Toshi.
Appearance
Edit
It was a tall, stark, formidable, and imposing building, with walls made of stone to endure a siege. The solemnity of the business room and garden was Matsu Shigeko's legacy. Ide Shikibu gifted a tall tree which bursted forth bright red flowers in spring. Inside Ashidaka Naritoki's influence was seen in the opulent private quarters, decorated with the colors or motifs of the Crane Clan. [1] It had an attached prison chambers and one of the most well-stocked torture chambers in the Empire. [2]
References
Ad blocker interference detected!
Wikia is a free-to-use site that makes money from advertising. We have a modified experience for viewers using ad blockers

Wikia is not accessible if you've made further modifications. Remove the custom ad blocker rule(s) and the page will load as expected.