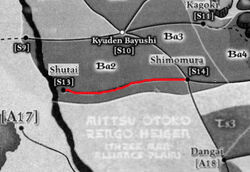 Magistrate's Road connected Shutai (S13) to Shimomura (S14). Only in the immediate vicinity of Shimomura were magistrates ever seen on this road. The land was rough and wild, well suited for ambushes and bandits of Shutai prowled this road. The Scorpion were amused that the bandits were helping to protect their southern border from intruders. [1]
References
↑ Secrets of the Scorpion, p. 15
Ad blocker interference detected!
Wikia is a free-to-use site that makes money from advertising. We have a modified experience for viewers using ad blockers

Wikia is not accessible if you've made further modifications. Remove the custom ad blocker rule(s) and the page will load as expected.