Magic Mud was a term used to describe a sort of flammable black goo found in the Shadowlands and used in battle by goblins. [1]
Use in Battle
Edit
The discovery of this mud became a creative way to mimick the flaming arrows of the samurai archers. The selected goblin would be rolled around in the magic mud and then set alight by his fellow goblins. As the flaming creature ran towards the samurai ranks, some would stay still, the surprise rivetting them to the spot. This would often result quite a lot of wounds due to the lack of reaction of the astonished samurai. Being set on fire was considered an honor amongst goblins. Indeed, the terrible wailing of the chosen one was considered a sign of Fu Leng giving them the battle fury they need to vanquish the enemy. [1]
See also
Edit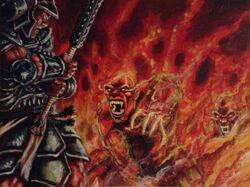 External Links
Edit
References
Ad blocker interference detected!
Wikia is a free-to-use site that makes money from advertising. We have a modified experience for viewers using ad blockers

Wikia is not accessible if you've made further modifications. Remove the custom ad blocker rule(s) and the page will load as expected.