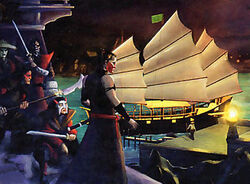 Lotus at Dusk was a Rokugani Battlefield Formation devised to make a large-scale surprise attack against an enemy army. It required multiple units and poor visibility, which used to be at dusk (or just before dawn), although fog or smoke could also be utilized. The attacking army was spread into multiple smaller units and sent them with much noise and energy in spreading directions, evoking the wide petals of the lotus flower. The formation distracted the enemy and caused chaos as the spread out units suddenly converged. [1]
External Links
Edit
References
Ad blocker interference detected!
Wikia is a free-to-use site that makes money from advertising. We have a modified experience for viewers using ad blockers

Wikia is not accessible if you've made further modifications. Remove the custom ad blocker rule(s) and the page will load as expected.