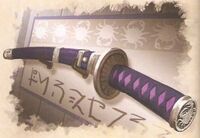 The Lotus Swords were the last gift to Rokugan of Xing Guo, the Fortune of Steel. They were given to the Jade Champion Asahina Sekawa to be distributed to worthy samurai of each Great Clan, one for the nezumi, and the final of them had to be gifted to the Dark Lord, Daigotsu. [1]
Xing Guo left Rokugan and the Heavens
Edit
In 1167 Xing Guo crafted these ten blades so that the heroes of the Empire could carve out their own futures. He went to explore the Realm of Lost Heroes, Maigo no Musha, in mourning for Rosoku's death. He would not return to the Celestial Heavens again, nor offer mortals any further aid. These were his final gifts to mankind. [1]
References
Ad blocker interference detected!
Wikia is a free-to-use site that makes money from advertising. We have a modified experience for viewers using ad blockers

Wikia is not accessible if you've made further modifications. Remove the custom ad blocker rule(s) and the page will load as expected.