The Ono of Osano-Wo was one of the many Osano-Wo weapons, and after it was corrupted after being lost in the Shadowlands it was called the Lost Ono of Osano-Wo. Ono was a fearsome, single bladed axe four feet long with a heavy, over-sized steel blade. Ono that were specifically designed for military use were extremely rare.
Being Lost
Edit
The Ono was given to the Mantis Clan Champion Hotaka before the Battle of the Cresting Wave began, as a reward for the troops he brought to the battlefield. Hotaka and the Ono were lost in the Shadowlands during the Battle. [1]
In hand of the Shadowlands
Edit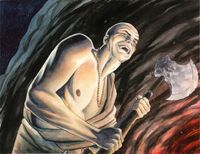 Centuries later while the Crab were fighting the Lost [2] it appeared in the hands of Moto Tsume, [3] and in the bloodspeaker monk Roshungi. [4]
Cleansed
Edit
The Ono was found deep in the Shadowlands and cleansed of its shadowlands taint by the Moshi. It was kept in the Heaven's Bank Gold at Kyuden Gotei. [5]
Known Wielders
Edit
External Links
Edit
References
Ad blocker interference detected!
Wikia is a free-to-use site that makes money from advertising. We have a modified experience for viewers using ad blockers

Wikia is not accessible if you've made further modifications. Remove the custom ad blocker rule(s) and the page will load as expected.