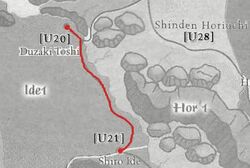 Long Samurai's Walk was the road that connected Duzaki Toshi (U20) to Shiro Ide (U21). It was made infamous due to a legend involving a Moto running from Duzaki Toshi to Shiro Ide to bring news of an attack by the Shadowlands Horde. The road was traveled by smaller merchant caravans traveling north, diplomats heading in either direction and the Junghar army when it was maneuvering in the area. [1]
References
↑ Secrets of the Unicorn, p. 29
Ad blocker interference detected!
Wikia is a free-to-use site that makes money from advertising. We have a modified experience for viewers using ad blockers

Wikia is not accessible if you've made further modifications. Remove the custom ad blocker rule(s) and the page will load as expected.