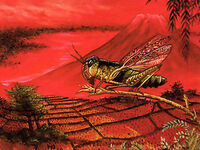 Locusts were the swarming phase of short-horned grasshoppers. They could breed rapidly under suitable conditions and subsequently become gregarious and migratory. They could travel great distances, rapidly stripping fields and greatly damaging crops.
Plague of locusts
Edit
In 1132 the famine grew in Rokugan, untended lands and continuous Clan War left the warehouses empty. [1] The plague of locust worsened the situation. [2]
External Links
Edit
References
Ad blocker interference detected!
Wikia is a free-to-use site that makes money from advertising. We have a modified experience for viewers using ad blockers

Wikia is not accessible if you've made further modifications. Remove the custom ad blocker rule(s) and the page will load as expected.