The Lion was a symbol of courage and keen battle knowledge. [1] They were native to the plains of central Rokugan, and the Lion Clan occasionally used them in battle. [2]
The tale of the Lion and the Scorpion
Edit
Once there was a lion which dared to boast its big size, bravery and strength in front of a scorpion. The small creature had stung the lion five minutes before, and when it was known by the lion it had nothing further to say, [3] tricked because of its pride, [4] dying upon the poisoning sting.
Benika's Pride
Edit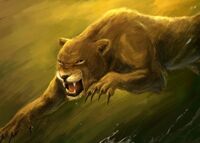 The lion is a savage creature that fought as part of a group called a pride. [5] A well known Lion pack was the Benika's Pride, which accompanied the Beastmaster Matsu Benika. [6]
See Also
Edit
References
Ad blocker interference detected!
Wikia is a free-to-use site that makes money from advertising. We have a modified experience for viewers using ad blockers

Wikia is not accessible if you've made further modifications. Remove the custom ad blocker rule(s) and the page will load as expected.