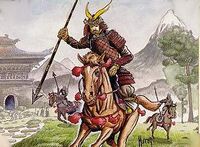 Light Cavalry was used to scout and attack the army flank and rear, and often times to harash the enemy supply lines or Command Staff. The bushi of these units were armed with their daisho, a yari, and the Daikyu. They wore only light armor, riding over unarmored horses. [1] The Unicorn also use light cavalry units as decoys, drawing enemy fire which would be intended for heavier units. [2]
See also
Edit
External Links
Edit
References
Ad blocker interference detected!
Wikia is a free-to-use site that makes money from advertising. We have a modified experience for viewers using ad blockers

Wikia is not accessible if you've made further modifications. Remove the custom ad blocker rule(s) and the page will load as expected.