Ad blocker interference detected!
Wikia is a free-to-use site that makes money from advertising. We have a modified experience for viewers using ad blockers

Wikia is not accessible if you've made further modifications. Remove the custom ad blocker rule(s) and the page will load as expected.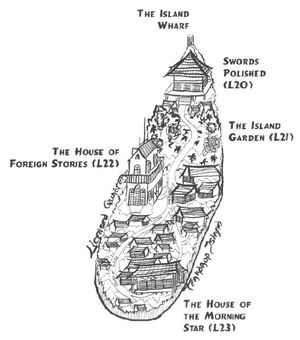 Licensed Quarter was one of the Quarters of Ryoko Owari Toshi, and it covered the Teardrop Island. It was aso known as 'Floating World' and 'Ukiyo'. [1]
Vice Quarter
Edit
The first pleasure section at Ryoko Owari was located in the current Leatherworker Quarter, too close to the Noble Quarter. After the Lion invasion this area was destroyed, and the Governor legislated to conduct those activities onto Teardrop Island, where they could be more readily isolated from the rest of society. [2]
Peculiarities
Edit
The business of entertainment was the only one there. Economic divisions were few, since the lowest class of establishments were restricted to the mainland, and no kajinin firemen existed. Similarly, social divisions were few, so only one neighborhood contained all the people, [3] it was not allowed leatherworkers to enter. [4]
Notable Locations
Edit
The Island Wharf: everything that came to the island had to go through it. The Thunder Guard had there a standing force. [5]
Swords Polished: any who wished to enter this quarter had to surrender his blade to be "polished". No weapons were allowed in the Floating World. [6]
The Island Garden: was a riot of garish display and vulgar foreign blooms where opium was smoke openly. [7]
References