Ad blocker interference detected!
Wikia is a free-to-use site that makes money from advertising. We have a modified experience for viewers using ad blockers

Wikia is not accessible if you've made further modifications. Remove the custom ad blocker rule(s) and the page will load as expected.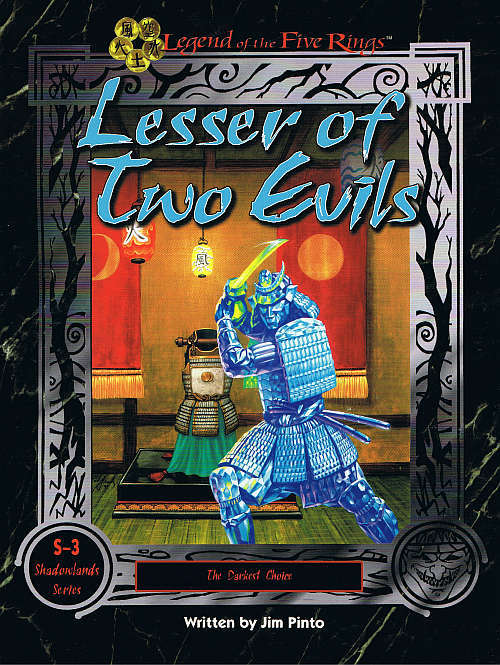 Lesser of Two Evils was an adventure book for the Legend of the Five Rings roleplaying game. It was the third of the Shadowlands 'S' series of adventures, designed to help Game Masters integrate the deadly potential of the Shadowlands into their campaign, without tearing down the Kaiu Wall.
Written by: Jim Pinto
Based on an Original Idea by Brian Peters and John Zinser
Game System by: David Williams and John Wick
Art Director: John Zinser
Cover Artwork: Carl Frank
Interior Artwork: Cris Dornaus, Michael Philippi, and Eric Polak
Maps: Cris Dornaus and Steve Hough
Artwork Prepress: Brendon Goodyear
Line Editor: D.J. Trindle
Editing: John Glenn and D.J. Trindle
Interior Layout: Steve Hough
Table of Contents
Edit
Introduction (page 4)
Edit
Gamemaster Notes (page 5)
Edit
The Journey Begins (page 8)
Edit
Arriving at Kyuden Toketsu
The Village (page 13)
Edit
The Swamp (page 15)
Edit
The Temple (page 17)
Edit
The Exterior

Temple Grounds
The Veranda
Smoke Oni Guardian

The Interior
Epilogue
Appendix (page 34)
Edit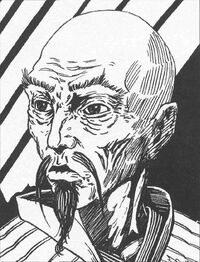 Pregenerated Characters (page 39)
Edit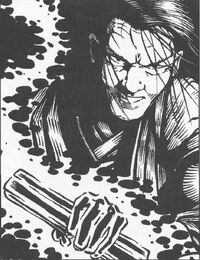 Maps (page 45)
Edit