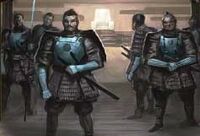 The Legion of the Sapphire Chrysanthemum were used as a supplemental force to reinforce Seppun guardsmen wherever they might require it. [1]
The Legion was trained in the Sapphire Blade Dojo. [1]
Composition
Edit
Their members were selected from the rank of the Emerald Magistrates, Imperial Legions, and Clan magistrates throughout the Empire. These individuals were chosen for their virtuous nature and their degree of skill. [1]
The Legion was most frequently called upon to serve as the sword arm of the Seppun magistrates, as the vast majority of Seppun guardsman. They were committed to duties protecting Imperial assets throughout the land and could not be easily marshaled on short notice. [1]
In 1168 the Legion was summoned by the Emerald Champion Yasuki Hachi in the rescue party of the Emperor Toturi III, who had entered alone in the Shadowlands in his quest for Enlightenment. [2]
Commander
Edit
In 1169 a student of Kakita Noritoshi, Kakita Idzuki, was appointed as the Commander of the Sapphire Legion. [3] [4] The Crane had bargained the favor of the Mantis Clan for this appointment. [5]
External Links
Edit
References
Ad blocker interference detected!
Wikia is a free-to-use site that makes money from advertising. We have a modified experience for viewers using ad blockers

Wikia is not accessible if you've made further modifications. Remove the custom ad blocker rule(s) and the page will load as expected.