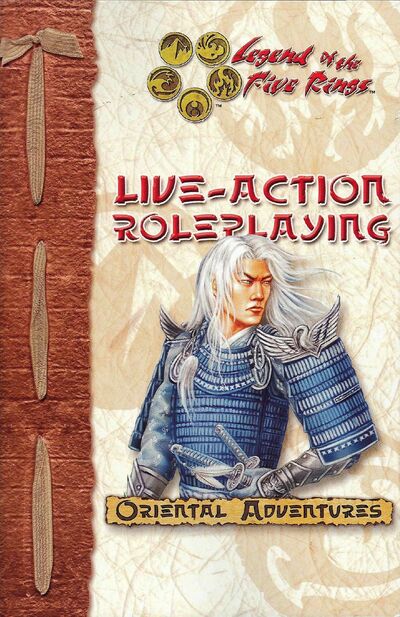 Legend of the Five Rings Live-Action Role Playing is a Second Edition sourcebook for Legend of the Five Rings Roleplaying Game including mechanics for the Second Edition as well as the d20 version of the RPG. The book introduces new rules for live action role playing in the Legend of the Five Rings setting. This volume is a catalogue of the information players need to plan, organize, and conduct their own live action role-playing game.
Writing: Rich Wulf, Shawn Carman, Kim Hosmer, Seth Mason, Chris Hand
Editor: D.J. Trindle
Creative Director: Mark Jelfo
Graphic Designer: Mario Rivas
Cover Artist: April Lee
Typesetter: Mario Rivas
Chief of Operations: Maureen Yates
Brand Manager: Raymond Lau
Production Manager: Mary Valles
Photos by: Kim Hosmer, Seth Mason, Andrew Mahon
Models: Jacobe Callahan, Dan Moenster, Tyler Lucas, Seth Mason, Charlie Perez, Rich Wulf, Alycia Baker, Jeremy Kilburn, Andrew Mahon, Kristy Mack, Renee Barr, Rob Barr, Dennis Wise, Dan Chambers, Melisa Robinson
Playtesters: Jacobe Callahan, Dan Moenster, Tyler Lucas, Seth Mason, Kim Hosmer, Matt Loomis, Jennifer Langley, Charlie Perez, Nikkisa Christian, Rich Wulf, Lee Masheter, John Ling, Hazel Warde, Jeremy Kilburn, Jared Devlin-Scherer, Ryan Carter, Andrew Mahon, Adam Diephouse, Mike Colson, Bill Early
Table of Contents
Edit
Introduction (Page 3)
Edit
Chapter 1: History of Rokugan (page 9)
Edit
Chapter 2: Mechanics (page 43)
Edit
Fiction "Blood and Honor", Part Three: with Shiba Kanshiro gathering knowedge about poison in the secret libraries tended by Seppun Kenzan, and the duel to first blood championed by Kanshiro against Mirumoto Aichi on behalf of Soshi Yoshino to keep intact the honor of Juro's daughter, Seppun Isa.
The Basics
Character Creation
Character Type
Character Sheet
Chapter 3: Character Building (page 69)
Edit
Fiction "Blood and Honor", Part Four: with Shiba Kanshiro requesting the aid of Yoshino's daughter, Soshi Kaoru.
The Great Clans
Equipment
Basic Spells
Chapter 4: Bloodspeakers, Ronin and Minor Clans (page 171)
Edit
Ad blocker interference detected!
Wikia is a free-to-use site that makes money from advertising. We have a modified experience for viewers using ad blockers

Wikia is not accessible if you've made further modifications. Remove the custom ad blocker rule(s) and the page will load as expected.