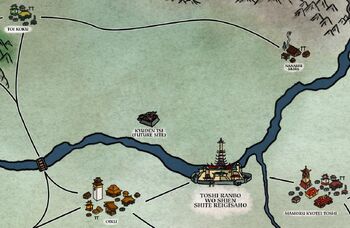 Kyuden Tsi was the Oriole Clan stronghold, located a short distance away from the Imperial City Toshi Ranbo. [1]
Building Period
Edit
In 1170 Tsi Zutaka had chosen the grounds and architects engaged, but the Oriole Clan Champion expected it might be years before the fortress was finally built. [1] Delayed by the [Destroyer War]], the plans drafted by architects of the Crane and Phoenix were still incomplete at the end of the 12th century, although the work done so far held much promise. The Yasuki advised the Tsi on how to finance the building. [2]
Appearance
Edit
A merging of Kakita and Isawa aesthetics, the design also incorporated the strengths of Crab architecture. The palace would include a Hall of Blades and a great shrine to Xing Guo, the Fortune of Steel. [2] When finally completed it would be the most splendid palace among all the Minor Clan. [3]
References
↑ The Atlas of Rokugan, p. 201
Ad blocker interference detected!
Wikia is a free-to-use site that makes money from advertising. We have a modified experience for viewers using ad blockers

Wikia is not accessible if you've made further modifications. Remove the custom ad blocker rule(s) and the page will load as expected.