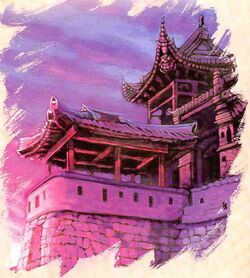 Kyuden Toketsu (CB21) was founded by Yasuki Toketsu an extremely wealthy Yasuki merchant who wanted to retire in comfort around the year 1050. It was not until 1060 that he discovered the nearby monastery where the monks remembered the sacrifice of Kuni Harike, who sacrificed his life to imprison the Kusatte Iru. The castle itself was located near the Plains of Foul Tears between the Spine of the World Mountains and the Twilight Mountains, [1] [2] in a place which would become part of the Toritaka province. [3]
The Haunting
Edit
Unfortunately, Kuni Harike Temple became a haunt of a Bog Hag named Higashato. Higashato had found the body of Kuni Harike after his battle with the Kusatte Iru, and using her magic was able to inhabit the body. She used this body to appear to the monks of Harike's shrine and urge them to study the Shadowlands, carving idols of oni and reciting blasphemous texts. [4]
Toritaka Holding
Edit
In the 12th century Kyuden Toketsu was granted to the Toritaka after they joined the Crab Clan, becoming part of the Toritaka province. [5]
External Links
Edit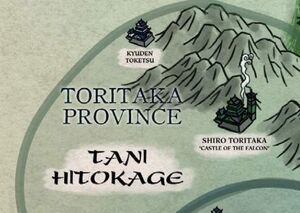 References
Ad blocker interference detected!
Wikia is a free-to-use site that makes money from advertising. We have a modified experience for viewers using ad blockers

Wikia is not accessible if you've made further modifications. Remove the custom ad blocker rule(s) and the page will load as expected.