Ad blocker interference detected!
Wikia is a free-to-use site that makes money from advertising. We have a modified experience for viewers using ad blockers

Wikia is not accessible if you've made further modifications. Remove the custom ad blocker rule(s) and the page will load as expected.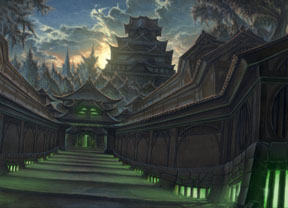 Kyuden Suzume (A25) was stark and functional, providing a fortified position where the Sparrow Clan and their heimin can defend themselves in time of war. [1] [2]
Appearance
Edit
Suzume Shiro was built out of the side of a hill top, restructured from an abandoned iron mine. [3] It was a one-story stone house without any sort of external ornamentation or decoration of any kind. Some samurai of the Great Clans who passed by, mistakenly believed it was a stable or a large storage house, [4] as once the famous Daidoji Uji. [5] In time, Kyuden Suzume grew and became the only estate in the Minor Clans which could claim was large enough to host an Emperor's Winter Court. An array of tunnels was built beneath it, extending in every direction for hundreds of yards. [6]
The Kyuden Suzume Dojo was located in Kyuden Suzume. [7]
Spider Clan
Edit
Kyuden Suzume secretly became a Spider Clan holding when the Spider infiltrated the Sparrow Clan. [8]
External Links
Edit
References