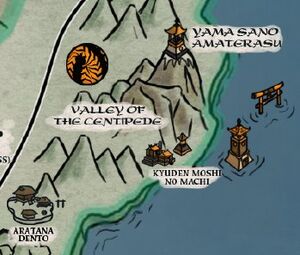 Kyuden Moshi no Machi was the capital of the Moshi territories, surrounding their ancestral palace, Kyuden Moshi. Peasant servants to the family, ronin and other ji-samurai, a few merchants, and Mantis traders formed the town of few thousand souls with stone buildings and paved streets. It had many shrines to the Sun Goddess, which also featured effigies of Lord Yakamo. All the homes had windows that opened to the sky, admitting the light of the Sun Goddess into their homes. This tradition had been diminished since Amaterasu's death. [1]
References
↑ Secrets of the Mantis, p. 37
Ad blocker interference detected!
Wikia is a free-to-use site that makes money from advertising. We have a modified experience for viewers using ad blockers

Wikia is not accessible if you've made further modifications. Remove the custom ad blocker rule(s) and the page will load as expected.