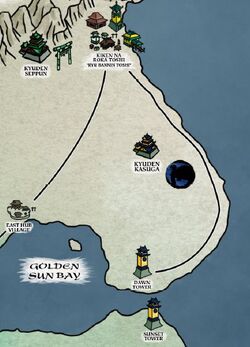 Kyuden Kasuga was the formal home of the Tortoise Clan, south of Dragon's Guard City halfway toward the Dawn Tower. [1]
Appearance
Edit
Kyuden Kasuga was created only after the Tortoise were finally awarded a formal family name. It was deliberately built to resemble a tortoise shell, making it perhaps the strangest-looking building in all of Rokugan. [2] The a humble castle located on the cliff edges along the ocean and surrounded by jagged rocks, was encircled by the village of Kasuga. Agasha Kasuga and several of his shugenja allies used Earth magic to fuse the castle's base into the cliff itself. The stronghold defenses relied in the Imperial protection and the hardly enviable lands which surrounded it. Unexpected Journey, the main port of the Tortoise, laid north of the castle. [3]
Port of Call to the Colonies
Edit
Kyuden Kasuga had grown considerably in the years since the Colonies were first established, as one of the few ports-of-call for Colony-bound shipping. [4]
Notable Locations
Edit
References
Ad blocker interference detected!
Wikia is a free-to-use site that makes money from advertising. We have a modified experience for viewers using ad blockers

Wikia is not accessible if you've made further modifications. Remove the custom ad blocker rule(s) and the page will load as expected.