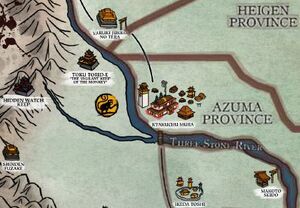 Footnote Village (L16) in the Azuma province, [1] was built during the reign of Hantei XXXVIII [2] to watch the Scorpion keep, Hidden Watch Keep, but after the Scorpion Coup it became a staging ground for attacks against Scorpion lands. Since the destruction of Beiden Pass during the War of Spirits it literally became a footnote, remaining only in existance because of the Imperial Legions who trained some of their students here. [3]
Appearance
Edit
The village became a waypoint for those moving between Kenson Gakka and Shiro Matsu. It had several inns and sake houses, and the village consisted almost entirely of heimin servants and supporters to the Lion army. [2]
Notable People
Edit
Matsu Renjiro was once a magistrate stationed here. [4] In the Four Winds era Toturi Tsudao spent time there, and Matsu Maruoka was the Lion commander at that time. [2]
Notable Locations
Edit
References
↑ Secrets of the Lion, p. 95
↑ Legend of the Five Rings; Third Edition, p. 293
Sources Conflict
The sources relating to this article are in conflict with each other.
Secrets of the Lion page 95 claims province Ma6 to be Kaeru province, but Kaeru Toshi is L17, so Ma7 must be Kaeru province. Most probably Ma6 is Azuma province. --Oni no Pikachu 22:23, July 30, 2012 (UTC)
Ad blocker interference detected!
Wikia is a free-to-use site that makes money from advertising. We have a modified experience for viewers using ad blockers

Wikia is not accessible if you've made further modifications. Remove the custom ad blocker rule(s) and the page will load as expected.