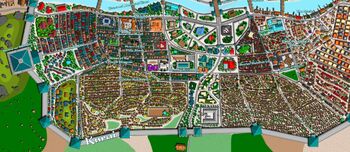 The Kurai District was the largest district of Toshi Ranbo, and was home to many of the city's nobles and prominent samurai. It also contained most of the significant Clan embassies and diplomatic residences. [1] The district encompassed most of modern Toshi Ranbo and where the bulk of the buke caste of samurai made their homes. Prior to the late 11th century nothing resembling this District existed at all. [2]
The district comprised a vast swath of land in the southwest of the city, and the Juutaku Subdistrict was also part of it, [3] where most of the city's heimin lived. [2] The Benten Subdistrict, where the Mantis Clan Embassy was located, was also part of the Kurai District, as was the Tsudao Subdistrict. [4] The ever increasing size of the Kurai District, in response to the increase of the capital itself, would not doubt lead to the division of the district into two separate districts at some point in the future. [1]
Reconstruction
Edit
The Kurai District was heavily hit during the Khan's assault on the capital in 1169, during the Winter of Red Snow. Reconstruction commenced shortly after, and with little delay it was mostly completed within a year. [1]
Notable Locations
Edit
Notable Governors
Edit
References
↑ Strongholds of the Empire, pp. 124-125
↑ The Atlas of Rokugan, p. 285
Ad blocker interference detected!
Wikia is a free-to-use site that makes money from advertising. We have a modified experience for viewers using ad blockers

Wikia is not accessible if you've made further modifications. Remove the custom ad blocker rule(s) and the page will load as expected.